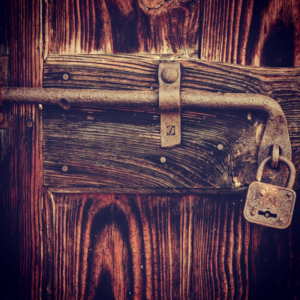 My Aunt's house has a cellar door. That is, I found a door in her cellar, behind a set of shelves filled with jars of canned peaches and an assortment of old hand tools.
Aunt Millie says she doesn't know where it goes. The shelves were always there, before they moved into the house forty years ago. As far as she knows, it may just be an old door set against the wall.
But there are tracks in the cellar floor, where the shelves have swung away from the wall. I've seen light flicker through the ancient keyhole. I mentioned all this to her, and she called me silly. Too much imagination, she said. The next time I visited, the tracks had been swept away.
Aunt Millie lives alone. Uncle George passed away a few years back. I visit more often these days, to do some shopping and help with errands. Each time I come by, I check the cellar. Each time, it feels like something has shifted ever so slightly. The shelf felt solid, immovable. I considered I might be obsessing. Until I heard the voices. Distant, chanting voices. Somewhere below, past that infernal door.
I told my Aunt that I would be back in a few days. I left her there, alone. I drove to the store, then returned from a different direction and parked down the street.
I waited.
Through the afternoon and into the evening, I waited. I drank from the water bottles, filling the empties with urine as needed, tightly refastening their caps. I waited, and I watched.
It was 3:27 AM when they left, eight men and women in jackets and gloves to ward off the cold October darkness. They spread out, each alone, presumably walking to a vehicle parked some blocks away. I didn't recognize any of them.
Tomorrow, I'm returning to the cellar. With flashlight and pry bar in hand, I'll find a way past that shelf, through that door, to whatever mystery lies below.
Tomorrow. If I can sleep. If that chanting stops ringing in my ears, and the neighborhood cats stop yowling, and the cinnamon stench abates, and the room stops spinning, and the three-headed goat stops nibbling on my toes, and, and, and …